[SPESS] 2015-06-28 SpaceX Commercial Resupply Services (CRS) 7 Launch
drasnor
Starship Operator
Hawthorne, CA
Icrontian
2015-06-28 14:21 UTC (10:21 EDT), Cape Canaveral, FL: SpaceX will be launching a Falcon 9 medium-lift launch vehicle carrying a Dragon 1 spacecraft to the International Space Station (ISS) for the National Aeronautics and Space Administration (NASA) under the Commercial Resupply Services program. This will be the 9th flight of the Dragon 1 spacecraft and the seventh mission under the CRS contract (designated CRS-7/SpX-7). CRS-7 is slated to arrive at ISS at 11:00 UTC (07:00 EDT) on June 30 following a two-day rendezvous phasing profile. The flagship payload for this mission is the International Docking Adapter 1 (IDA-1) which will be installed on the Pressurized Mating Adapter 2 (PMA-2) module to allow the next generation of United States manned spacecraft to dock with ISS. IDA adapts the older Androgynous Peripheral Attach System (APAS) docking collars on ISS last used by Shuttle to the new NASA Docking System (NDS) standard adopted by the Lockheed Martin Orion, Boeing CST-100, SpaceX Dragon 2, and Sierra Nevada Dream Chaser. IDA-1/PMA-2 are situated on the forward end of ISS to allow for V-bar approaches.

International Docking Adapter 1 ready for shipping. The peg-and-cross extension on the lower left is a combination visual, infrared, and laser retroreflector docking alignment target used to ensure the two spacecraft are correctly aligned.
Riding in the pressurized section are the usual complement of clothes and supplies as well as AggieSat 4 and Bevo 2 student satellites for Texas A&M University and University of Texas respectively. These satellites will be launched together from the Space Station Integrated Kinetic Launcher for Orbital Payload Systems (SSIKLOPS or "Cyclops") deployment system and demonstrate relative navigation and inter-satellite communication in addition to a host of other technical capabilities. Cyclops is used to deploy larger, more capable spacecraft up to 100 kg compared with the 1-3 kg nanosatellites handled by the NanoRacks dispensers. This will be the second time a spacecraft has been deployed from Cyclops following its delivery on the SpaceX CRS-4 mission.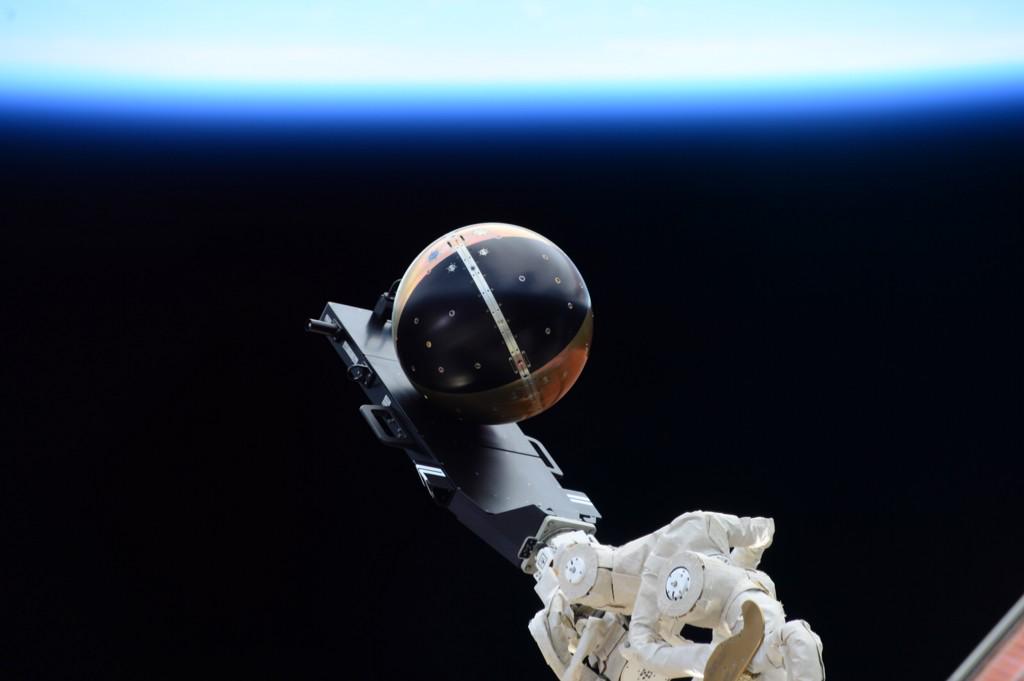 SpinSat 1 primed for deployment from Cyclops in its first operational use.
The weather is forecast to be 90% favorable for the 6/28 launch attempt with mild winds and scattered clouds. The launch window is instantaneous due to the nature of the spacecraft orbital injection and as such any delay or hold will result in a 24-hour delay. In addition to the primary mission of delivering the Dragon spacecraft safely to its rendezvous with ISS, SpaceX will be making its fourth attempt to land the first stage of the Falcon 9 launch vehicle on its Autonomous Spaceport Drone Ship (ASDS) Of Course I Still Love You shortly after launch. The previous attempt during the CRS-6 launch ended in a hard landing due to problems with throttle valve stiction on the landing engine. Earlier attempts also ended in near-successes including a perfect landing in high seas without a drone ship in place during the DSCOVR mission earlier this year and a crash landing on ASDS Just Read The Instructions due to early depletion of hydraulic fluid powering the first stage control effectors during the CRS-5 mission. This will be a morning launch providing good conditions for the launch and first stage recovery attempt. SpaceX will be providing live streaming coverage of the launch on their webcast at http://www.spacex.com/webcast/ and NASA will also be streaming the launch on their feed at http://www.ustream.tv/nasahdtv .

Falcon 9 executing a hard landing following a successful launch of the Dragon CRS-6/SpX-6 mission.
Have fun and fly safe!