Desert Bus for Hope 9. THE BUS DON'T STOP.
OH BOY HERE WE GO AGAIN!
Desert Bus is back, and it's time to sit in mumble and watch a group of nerds play the worst game ever made for a week straight while raising money for charity. Desert Bus for Nope Hope 9 starts Saturday, November 14th at 10AM PDT, and ya'll better be there to enjoy it with us.
WTF is Desert Bus for Hope? Glad you asked. Top bro Graham explains for you: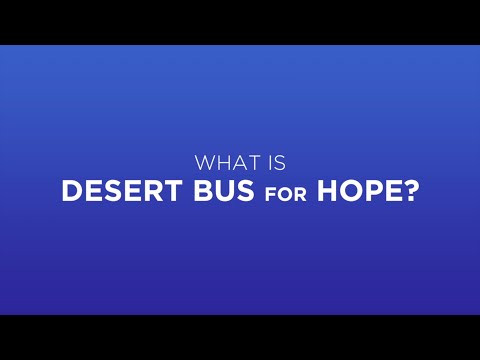 Donations are open now, but if you're pro, you'll hold your money to get some sweet stuff.
A bunch of us are gonna be watching every moment of every day. You can hang out with us on Mumble (srsly, do so) in the Dessert Bust channel. Bring a booze and help kick this crazy thing off with us.
Twitch.tv is being used as the live chat for this year's event, so make sure you've got a Twitch account going into it if you want to participate in the chat. Also, do note that this will make bans more serious since they're Twitch accounts, so be careful or bring an alt.
As usual, Sonny set up the rad dashboard with all the goods on it, so hit it up for the best viewing experience: http://sclisi.com/db/
LET'S DO THIS
Previous threads:
Desert Bus 3
Desert Bus 4
Desert Bus 5
Desert Bus 6
Desert Bus 8