Oh Nature, You So Funny!
RahnalH102
the Green Devout, Veteran Monster Hunter, Creature Enthusiast
New Mexico
So I spent the majority of the day helping my family work on my Sister's property after it had sustained flood damage from a particularly nasty storm a day ago. The flood brought down fences, fill trenches we had dug earlier, and the rain had managed to get into the house and just so happened to fry her computer. :I
But here is the kicker, I spotted this not too far away while we were working: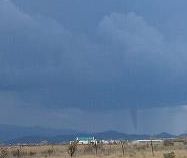 (yes the pic is small. Taken with my sister's phone :I )
A tornado decided to form and touch down over yonder. We don't normally get those. What with living along the Rockies. In my lifetime there has been one warning in our area but nothing actually happened.
To quote my sis "A flood, AND and tornado?! That's it, I'm moving!"
However the tornado formed in/near the mountains so it was doomed from it's conception and lasted for about 20 minutes.
An hour later and the skies were clear and sun-baking the ground again.
NM weather so fickle. That is my only qualm with my homeland.