[SPESS] 2016-04-08 SpaceX Commercial Resupply Services (CRS) 8 Launch
drasnor
Starship Operator
Hawthorne, CA
Icrontian
2016-04-08 20:43 UTC (16:43 EDT), Cape Canaveral, FL: SpaceX will be launching a Falcon 9 medium-lift launch vehicle carrying a Dragon 1 spacecraft to the International Space Station (ISS) for the National Aeronautics and Space Administration (NASA) under the Commercial Resupply Services program. This will be the 10th flight of the Dragon 1 spacecraft and the eighth mission under the CRS contract (designated CRS-8/SpX-8) and is the return-to-flight mission for Dragon following the June 2015 launch failure of Dragon CRS-7. CRS-8 is slated to arrive at ISS at 11:00 UTC (07:00 EDT) on April 10 following a one and a half day rendezvous phasing profile.
CRS-8 is manifested to carry more cargo than any previous Dragon resupply mission: 3136 kg. The flagship payload for this mission is the Bigelow Expandable Activity Module (BEAM), a demonstration inflatable habitation module. BEAM is the first commercial ISS module and the first new ISS module to be launched since the end of the shuttle program. BEAM was developed and manufactured by Bigelow Aerospace of Las Vegas, NV to be the first human-occupied inflatable habitat and perhaps the last prototype before their debut as a commercial provider for private space stations.

BEAM fully-deflated and ready for final integration into Dragon's unpressurized trunk.

Animation showing the Space Station Robotic Manipulation System (SSRMS) installing BEAM onto its new home at the International Space Station.
The weather is forecast to be 90% favorable for the 4/8 launch attempt with scattered clouds and moderate winds. The launch window is instantaneous due to the nature of the spacecraft orbital injection and as such any delay or hold will result in a 24-hour delay. In addition to the primary mission of delivering the Dragon spacecraft safely to its rendezvous with ISS, SpaceX will be making another attempt to land the first stage of the Falcon 9 launch vehicle on its Autonomous Spaceport Drone Ship (ASDS) Of Course I Still Love You shortly after launch. The December 21, 2015 launch of Orbcomm OG2 resulted in a successful land landing though previous attempts at landing on the drone ship have been unsuccessful. This will be an afternoon launch providing good conditions for the launch and first stage recovery attempt. SpaceX will be providing live streaming coverage of the launch on their webcast at http://www.spacex.com/webcast/ and NASA will also be streaming the launch on their feed at http://www.ustream.tv/nasahdtv .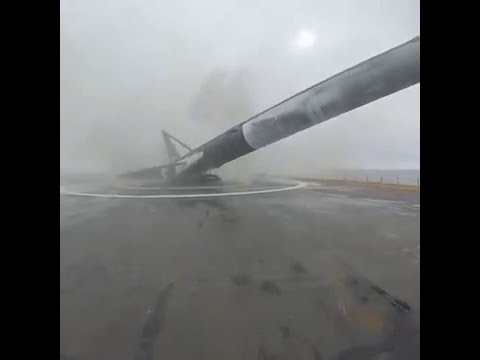 Failure of a landing leg lockout thwarted an otherwise-successful landing of the Falcon 9 first stage following the successful launch of the Jason-3 oceanography satellite on January 17, 2016.
Have fun and fly safe!