[SPESS] 2015-04-13 SpaceX Commercial Resupply Services (CRS) 6 Launch
drasnor
Starship Operator
Hawthorne, CA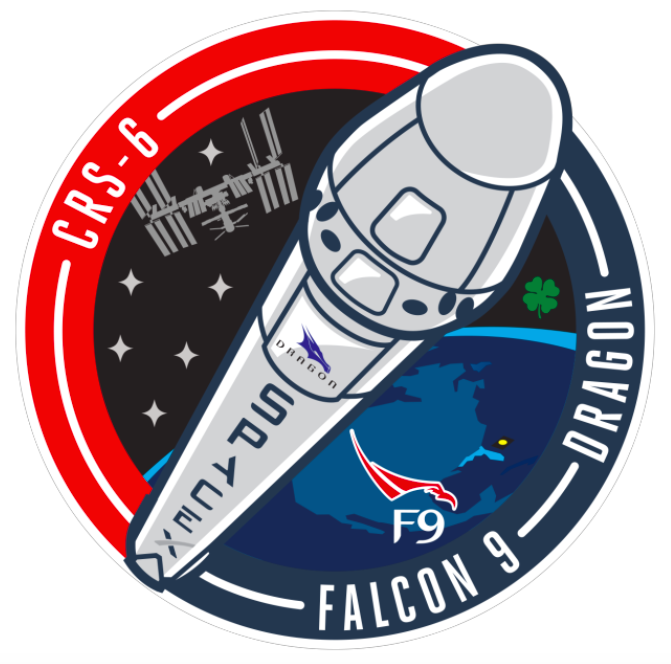 2015-04-13 20:33 UTC (16:33 EDT), Cape Canaveral, FL: SpaceX will be launching a Falcon 9 medium-lift launch vehicle carrying a Dragon 1 spacecraft to the International Space Station (ISS) for the National Aeronautics and Space Administration (NASA) under the Commercial Resupply Services program. This will be the 8th flight of the Dragon 1 spacecraft and the sixth mission under the CRS contract (designated CRS-6/SpX-6). CRS-6 is slated to arrive at ISS at 11:00 UTC (07:00 EDT) on April 15 following a two-day rendezvous phasing profile. 4,387 lb of payload is manifested for this flight including new science to study protein growth, genetics, physiological effects of space flight, and test a new "muscle" material for use in robotics as well as supplies including the ISSpresso coffee maker. Commercial payloads include the Arkyd-3 space telescope from Planetary Resources of Redmond, WA; 14 Flock 1e Earth observation satellites from Planet Labs of San Francisco, CA; and the AggieSat4/Bevo2 satellite from Texas A&M University and University of Texas. Arkyd 3 and the Flock 1e satellites will be deployed from ISS using a Nanoracks cubesat deployer while the larger AggieSat4/Bevo2 satellite will be deployed using the new Cyclops deployer. In an unusual turn of events, Dragon will be flying with an empty trunk and as such carry no unpressurized cargo for this mission.
The weather forecast is 60% favorable for launch due to an incoming front triggering rain and thunderstorms over the weekend. The launch window is instantaneous due to the nature of the spacecraft orbital injection and as such any delay or hold will result in a 24-hour delay. In addition to the primary mission of delivering the Dragon spacecraft safely to its rendezvous with ISS, SpaceX will be making its third attempt to land the first stage of the Falcon 9 launch vehicle on its Autonomous Spaceport Drone Ship (ASDS) Just Read the Instructions shortly after launch. The previous attempt during the launch of the DISCOVR spacecraft was thwarted by high sea conditions preventing JRTI from keeping station in the recovery zone resulting in the stage executing a precision soft landing in the ocean; a remarkable achievement in unfavorable wind and sea conditions. An earlier attempt during the CRS-5 mission was unsuccessful as well due to early depletion of hydraulic fluid powering the first stage control effectors and resulted in a spectacular hard landing on JRTI. This will be an afternoon launch providing good conditions for the launch and first stage recovery attempt. SpaceX will be providing live streaming coverage of the launch on their webcast at http://www.spacex.com/webcast/ and NASA will also be streaming the launch on their feed at http://www.ustream.tv/nasahdtv .
Have fun and fly safe!