IT'S TIME FOR LULS - Open Mic at Club Digi (Comedy Night)
Ladies and Gentlemen! Let's do this.
Who: Yours Truly and Y'all!
What: Open Mic in a video game! Come tell a joke, a story, sing a song, vent about something, whatever you want to do. You don't have to get on stage, You can just grab some popcorn, come hang out, and heckle.
When: Friday 01/12/18 6:30pm Pacific / 9:30pm Eastern
Where: Club Digi - Comedy Night Room TBA. If you took my advice, you're all set. If not, it is still on sale until Monday.
PING! @NiGHTS @Ilriyas @Sonorous @PirateNinja @FettBacon @cola @DontCallMeKelso @RyanFodder @primesuspect @UPSKingpin @UPSLynx @GnomeQueen
See you there!
Edit: I'll cover this during the intro but if you want to be ahead of the curve, here is how this works.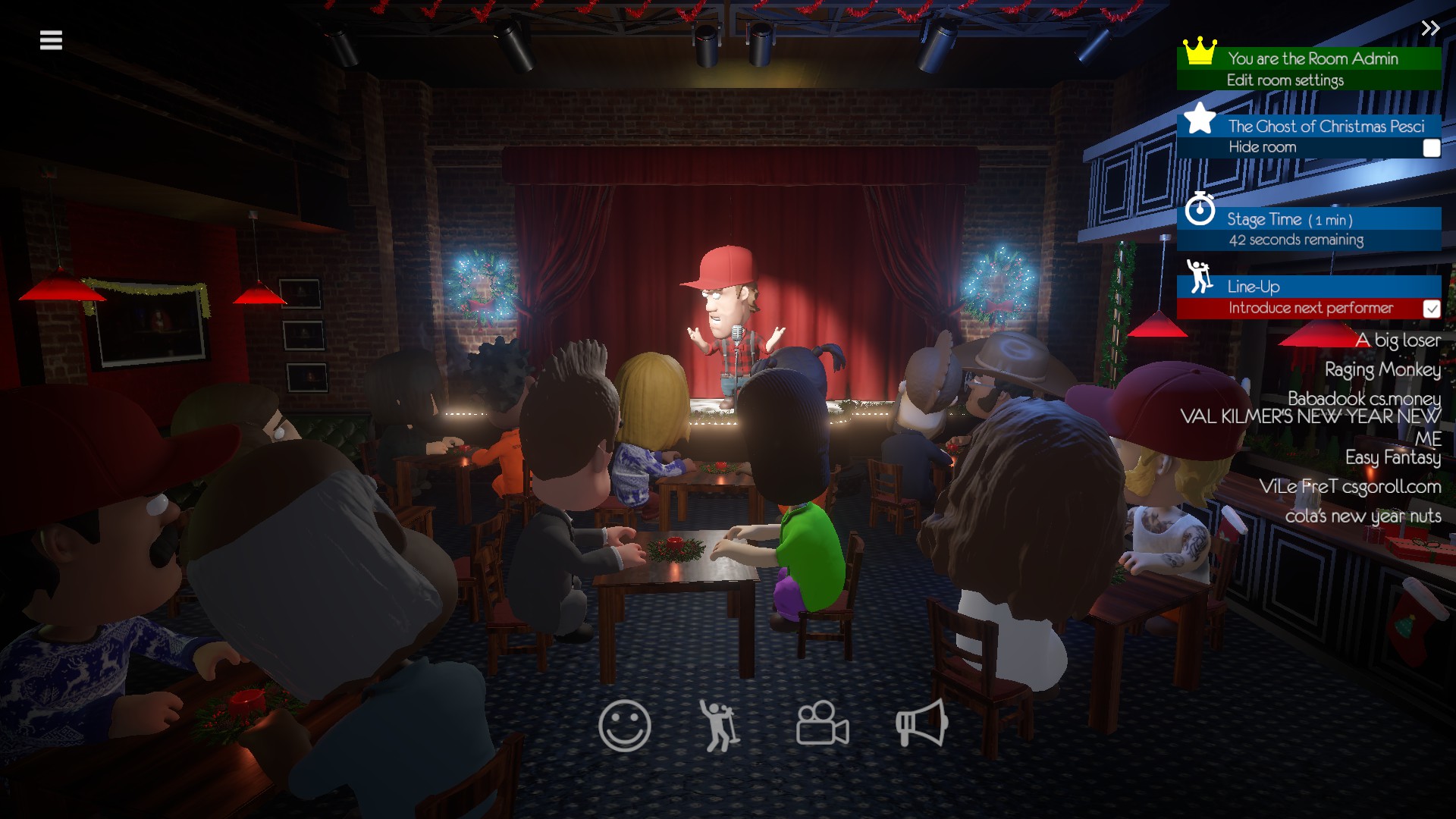 The 4 buttons at the bottom of the screen allow you to do the following:
Happy Face: Emotes. Click this to bring up a selection of emotes to have your character preform. You can cheer, you can "boo", you can make cricket sounds and your avatar will act accordingly in in their chair.
Guy with a Mic: Go On Stage. This will put you in a queue to go up on stage. You can see the Line-Up in the screenshot there on the right side. When someone leaves the stage, the next in the Line-Up will automatically be put on stage. At Club Digi I use an intro option that puts me on stage in between each performer.
Camera: Change Camera Angles. You can have an angle a bit closer to the performer or off to either side. Click it a few times to see your options.
Megaphone: Speak. This is a push to talk to open up your Mic while not on stage. This is your heckle button. All players have the ability to mute other particular players so trolling can be kept to a minimum.
Hamburger: Options. In the top left, the little three lines. Yes, it is called a hamburger icon. Per user options here. You can mute other players and leave the room from here.